So I'm on a Lady Bronc Riders kick and I would like to share a few I read about today!
One of mine and Gussie's goals this summer is to ride a stock saddle bronc or two :)
Lulu Bell Parr
(1876-1955)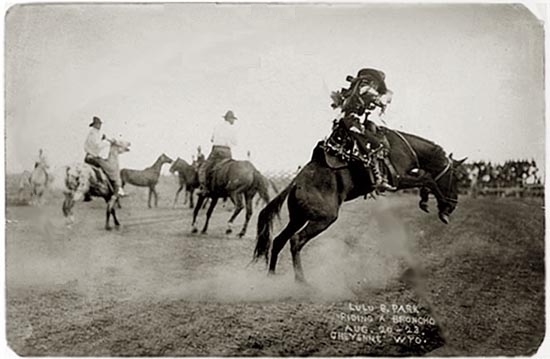 Lulu Bell Parr, an independent and spirited wild west performer thrilled audiences all across the world during her reign as the "Champion Lady Bucking Horse Rider of the World." She rode in some of the most famous Wild West shows of the last century.
Lulu was born on November 14, 1876 in Fort Wayne, Indiana. Lulu's parents divorced when she was a young girl and her father took her west with him. When Lulu was 16, she returned to Steubenville, OH, to live with her mother. There she married George Barrett in March 1896 but divorced him in May 1902. From there her wild west adventure begins.
She joined the Pawnee Bill Wild West Show in 1903 and remained with them until 1907. She became famous for her bronc riding skills but demonstrated other talents such as trick riding, sharp shooting and buffalo riding. In 1908, she joined the Col. F.T. Cummings-Brighten Tour for a European trip. While touring in England, she performed for King Edward VII. Back in the United States, she performed with the joint Pawnee Bill/Buffalo Bill Show and stayed with them until 1913. She also performed with the Miller Brothers' 101 Ranch Wild West Show during that time.
After the 1913 season, Lulu traveled to South America with the 101 Ranch and the Pawnee Bill/Buffalo Bill troupes. Argentina proved quite successful for Lulu. Her performance in Buenos Aires was publicized as highly as an opera singer would be. It is reported that Argentine president Jose Figueroa Alcorta "showered" Lulu with gifts for her outstanding debut. She toured the United States and Europe again with the 101 Ranch troupe but by that time most wild west show performers had died, retired or found new careers in film.
When most of the larger shows broke up, Lulu found smaller shows that at times could barely pay for traveling expenses. She toured with the Cook Brother's Texas Ranch 99, Vern's Tex-Mex Show, Tantlinger's Wild West and King Brother's Rodeo. She also performed with circuses such as Wortham's World's Greatest Show, Sells-Floto Circus, Barnum-Bailey, Robbins Brothers Circus and Hagenbeck-Wallace Show. Lulu did not retire until she was in her 60s.
During her reign as "Champion Lady Bucking Horse Rider of the World," Lulu received top billing for performances and she was known for her flamboyant outfits, often the creations of Lulu herself. She received numerous injuries during her career but kept going. It was once reported her horse made a sharp turn and fell on its side during a show, pinning her to the ground before she was able to get out of the saddle. Knocked unconscious, Lulu's physician said her injuries would prevent her from riding for a few weeks. Thirty minutes later, she was riding in the classic quadrille while fans cheered her on. Her independent nature and thirst for excitement even influenced how she traveled. Upon returning home from a European tour, she rode horse back for approximately 600 miles to Ohio from Pennsylvania to visit relatives. When asked why such a long trip on horseback, she simply said she and her pony were tired of the steam trains.
Lulu died on January 17, 1955 in Ohio while living with relatives. Among her prized possessions was a 5" barrel, nickel and gold plated 45 Colt revolver engraved "Buffalo Bill Cody to Lulu Parr - 1911." The Medway Area Historical Society in Medway, Ohio began uncovering Lulu's significant history upon finding out she was buried in an unmarked grave in the Medway Cemetery. With tremendous public and private support, they were able to erect a five-foot monument including Lulu's picture marking her resting place. She possessed great determination and fortitude and is a prime example of a true cowgirl.
(This story is not mine, credit: http://www.australianwesternhorseshowcase.com.au/Features/stories/usa-hall-of-fame-women.htm)
Ruth ran away from home to join the 101 Ranch Wild West Show as a trick rider. Her contest debut came at the 1917 Fort Worth Roundup, America's first indoor rodeo, as a bronc rider. Dubbed the "soft-spoken, rough-riding golden girl of the West," she wore trademark giant hair bows and boots hand-tooled with hearts. She is remembered for trick riding up the steps, across the lobby and through the dining room of Fort Worth's Texas Hotel.
(Credit:

http://www.australianwesternhorseshowcase.com.au/Features/stories/usa-hall-of-fame-women.htm)
Ruth Salmon, world champion rodeo performer, had a 24-year career that began in 1914 and ended in 1938, when she retired from the rodeo and started a ranching business in Nocona, Texas, with her husband, Fred Salmon. She is an inductee in the National Cowgirl Hall of Fame and the National Cowboy Hall of Fame and traveled the world with the Buffalo Bill Wild West Show and The 101 Real Wild West Show. Bronc riding was her favorite event, although she performed and won championship titles in other areas (as Ruth Roach). During her career she won the titles of World's Champion All Around Cowgirl, World's Champion Trick Rider, and World's Champion Girl Bronc Rider.
(Credit:
http://texashistory.unt.edu/ark:/67531/metapth21045/)
Hope you enjoyed these stories as much as I did, these ladies were truly amazing!!!
-Krick